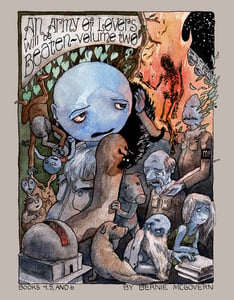 $

10.00
An Army of Lovers Will Be Beaten, Volume 2 is a collection of the most recent chapters of the Army of Lovers saga. Six years running, this story follows the surreal happenings in a war between a blue-skinned people and constellations in the night sky. Join Lieutenant Buckeley and his peeping-tom Llama on a voyage through rat-wrestling, psychosis, temporal plumbing, and digestive mythology.
Books 4 - 6 collected.
Self published, perfect bound, 168 pages, B&W with some full color pages.